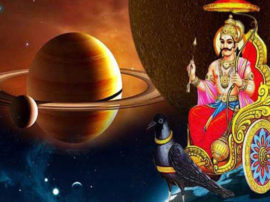 Sade sati of Saturn (Seven and Half years of Saturn):
Shani Sade Sati
Shani Dev (Lord Saturn) is the Judge. Saturn remains for two and half years in one House. Sade sati is the Saturn transit on 3 houses that comes out to be seven and half years.
Sade sati has 3 phases (Each 2 and half years)
1. Rising
2. Peak
3. Setting
Sade sati means the arrival of Shani dev on the mind. Moon is the mind, when Shani Dev comes one house before from the house of the Moon in the horoscope, then the Sade sati starts. When Shani dev is at the Moon's house, then the Sade sati is in a peak state. After two and a half years there is a descending state of the Sade sati.
Sade sati tests righteous of the person. Many people face mental tensions during Sadesati. Mental tension is on peak during Peak Phase of Sadesati. There is a change in life after Sadesati. Remedies must be done during Sade sati. Remedies must be started during Rising phase.
Some Easy Remedies:
Do not cheat anyone.
live a righteous life.
Read Shani Katha and Shani Chalisa daily.
Keep Fast on Saturday.
Offer water to Lord Shiva.
Give Water the Peepal tree.
Reduce black color in your daily life.
Recite Om Shanaishraiye Namah 108 times daily.
In the Sadesati, the first two and a half years, when it starts, remedies should be started otherwise it will not help much if you start the remedy later.